SIP Panel Construction Equipment, Materials, Tools
Specializing in the delivery of field operable SIP Panel construction systems for building Houses (affordable housing, small houses, and modern houses), Shelters (disaster relief shelters and emergency relief shelters), and Commercial Structures.
How SIP Panels are made.
Field Operable SIP Panel Construction Equipment
PBS 3000 SIP Field Operable Sip Panel Equipment
Our suite of SIP manufacturing equipment targets construction projects that utilize SIP Panels and structural construction foam. Our line of sips panel mold/presses are used to construct Structurally Insulated Panels which can be used to build many types of structures. And our upcoming line of Global Mobile Factories will be industrial grade construction systems for the most demanding construction applications and encompass the entire building envelope (walls, roofing, and framing); especially where mobility is needed.
You Can't Afford to Ship SIPs
SIP Panels are one of the most versatile construction products available today. Highly insulated, extremely durable, and strong. They have been proven to outperform traditional construction in many situations. However; SIP Panels have a big problem; nobody can afford to ship them!. Full-size panels quickly fill semi trailers and shipping containers eliminating any savings gained by using the panels in the first place. Our solution is to bring the material, equipment, and tools needed to build SIP Panels direct to your job site providing you with SIP's at a fraction of the cost of traditional manufacturers!
IADDIC offers materials, tools, and equipment used to build Structurally Insulated Panels for the construction of buildings across the globe. If you're engaged in building anything: disaster relief shelters, workforce housing, low, middle or high-end housing, schools, or commercial structures then chances are we have a solution for you! Our premise is simple: we believe you want the best buildings money can buy. You want sustainable, strong, durable, earthquake and hurricane resistant, highly insulated, rot, mold, fire, and insect resistant buildings that are appealing, culturally acceptable, sustainable, and will last for decades or generations. And most of all they must be affordable! For these reasons we bring together the essential components needed to build the structure envelope using Sip Panels in a wide variety of applications and locations.
Construct Almost Anything, Almost Anywhere!
We are serious when we say you can build almost anything almost anywhere using our systems and field build approach to SIP construction. What we really mean is build better, build faster, and more affordably…and in overwhelming quantities!
IADDIC is creating new ways to manufacture SIP Panels: not in a manufacturing plant which is expensive, but right where the work is being performed, on the job site.
Why is this a Big Deal?
Because, up until now, SIP's have been processed in factories to create panels for all kinds of construction products. They have tremendous construction appeal in that their properties make them extremely strong and capable for just about every construction project. As a matter of fact, many millions of square feet of buildings are constructed each year using them. The trouble is once they are manufactured in local or regional factories they are too large and cost prohibitive to ship. For this reason, we tailor the materials, build the equipment, and supply the tools to create sips on the construction job site. This has turned construction of these products upside down because they are some of the most efficient materials to ship. Especially when you factor in a 20 to 40 times expansion rate when used.
What can be constructed using the IADDIC approach?
For starters your construction project is important and you are wanting SIP Panels for the project. Energy efficiency is important as well as rapid construction and in the end, your structures must be capable. According to the International Building Code, SIP Panels are a load bearing construction material and able to be used as high as three stories without framing. Below this level your imagination is the limit: you can build disaster relief shelters, schools, clinics, houses, apartments, or commercial buildings. Maybe more importantly though is the ability to manufacture SIP Panels (structural insulated panels) for just about any structure size and shape. The versatility of SIP Panels is what makes them so attractive in the first place. But even if you know where to get them, chances are, if you live too far away from a plant you can not afford to ship them.
SIP Panel Applications
Find below some of our customer driven SIP construction applications. Each example has been developed to solve current problems with construction using either conventional methods or reducing the construction costs, or both. The applications range from shelters and small structures for disaster relief to larger building like townhouses or apartments.
Construction Material
SIP Panel House Construction includes everything from simple small houses with thin wall SIP Panels to luxury houses, townhouses and more. Sip Panel house construction has been available and in use in the United States for many decades. However; SIP Panels are not available in the vast majority of the world. For this reason, we have developed a suite of tools and a collection of materials that are used to produce SIP Panels for almost any structure almost anywhere in the world.
Houses, House Kits, and More
Are you a person, group, contractor or construction company building houses? Have you ever considered SIP Panel construction? SIP Panels are one of the premier building components to build energy efficient, long lasting structures with one of the lowest costs to construct. They have been in use in the USA since the 1950's and have withstood everything from blizzards to hurricanes. In many circles, they are considered the best building technology available. But there is a problem! We know nobody can afford to ship SIP's especially internationally. So we've built the tools and systems you'll need to build your own panels for your housing projects.
Shelters and Shelter Kit Products
We've been building shelters for over 10 years now and have listened to our customers. Each year we continue to innovate our shelter products and advance the capabilities of a basic shelter. This constant innovation has led us to produce a suite of shelter products that last indefinitely (maybe a hundred years), are highly flame resistant, rot resistant, impervious to most household chemicals, and are the highest insulated shelters on the market. And, maybe most importantly our shelters can be produced in overwhelming quantities.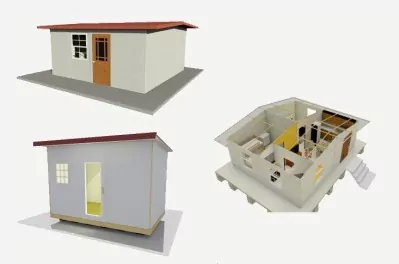 IADDIC Shelters offers a line of disaster relief shelter kits that impact the way shelters are delivered to a disaster. Our approach makes it possible to deploy shelters quickly, in very large quantities. The advantages of an IADDIC disaster relief shelter production system not only lies in its low initial cost but it gets to permanency quicker by becoming a core component in the permanent home. Deploying one shelter, one time, and have that shelter stay with the recipient indefinitely is very efficient.
Construction Material
We offer two types of construction materials: MgO for the skins on SIP panels and Construction Foam used to for the core of the SIP panels. Each of these construction materials are extremely versatile and incredibly durable but together they make one of the best, if not the best, construction building system available. Each material is an eco-friendly building material, rot, and insect proof and the MgO (Magnesium Oxide cement board) is even flame resistant (almost flame proof!).
Construction Tools
We offer a collection of construction tools specifically related to construction projects using SIP Panels and structural construction foam. Some of these tools are specialty tools that make working with these materials easier, faster, and more precise. Here you will find edge routers used to clean the edges of SIP Panels, large saws for cutting thick panels, and drills for clearing a path for wire and plumbing.
Because of the complications with the construction process we offer basic consulting, design and project management services that begin at the design stage and end when you are comfortable constructing the building envelope on the construction site. We will convert your traditional plans into panel plans that accept panels made using our systems. We then assist with the selection of equipment and construction systems to build the panels. Ultimately we work with and train your team to build the SIP Panels, shelters, houses, or whatever you are building at your location.
Turnkey SIP Construction Partners
From the onset of a construction project IADDIC is here to assist you in making the best possible decisions regarding structural insulated panels. For shelter projects, we offer many basic designs to choose from, provide the construction supplies to build them, and offer project management services to ensure your project flows smoothly from start to finish.
Housing Systems are the quickest and most economical construction systems available.